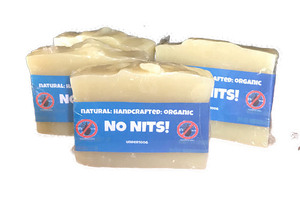 No Nits, Handmade, Natural & Organic Shampoo Soap Bar
No Nits, Handmade, Natural & Organic Shampoo Soap Bar
 Overview
Handmade item
Materials: tea tree, castor oil, sustainable palm oil, almond oil, coconut oil, neem oil
Description
"NO NITS" SHAMPOO SOAP
Head lice are more common in children aged between 4 and 11 and is mainly acquired by close head to head contact with an infected person whilst at school. They can also be spread by indirect contact with personal items, such as combs, scarfs, hair ties and scrunchies. These annoying little critters, live close to your scalp and feed off your blood. A female louse can lay up to 6 eggs per day, so an infected person may only a have few active lice on the scalp, but many hundreds of eggs.
 "No Nit" soap is made from top quality certified & organic Neem oil & essential oils, that aid in managing the control of a head lice infestation.
"No Nit" soap, comes with a small instruction leaflet with the directions for use.
(please quote item and code with mailing address and allow approx., 3 weeks delivery)
---
We Also Recommend
---