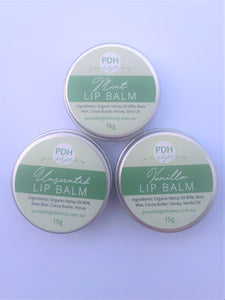 LIP BALM
Description
Hemp oil helps regenerate and energise our skin and a part of us that often gets neglected is our lips.  Enter our Lip Balm.
Like amny of our products we have kept the formula simple and effective.  Delivering as much hemp oil as possible in a stable format, packaged responsibly and easy to take with you.
With up to 80% Hemp Seed Oil, our Lip Balms are a refreshing treat for your lips.  Its long lasting and best of all comes in 3 flavours: Mint, Vanilla and Unscented.
Keep lips moist and soft while being totally edible. Our lip balm is delicately flavored with spearmint and honey. With all the great moisturizing qualities of pure hemp oil and natural bees wax.
Ingredients: Hemp Seed Oil, Cocoa Butter, Beeswax and Honey. (Vanilla oil in vanilla flavour and Spearmint oil in Mint flavour)
---