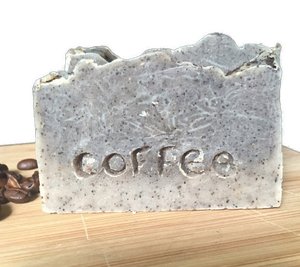 Handmade Cellulite exfoliating coffee soap. Natural and Organic
Handmade Cellulite exfoliating coffee soap. Natural and Organic
 Overview
Handmade item
Materials: Shea Butter, Palm Kernel Oil, Coconut Oil, coffee grains
Description
 The accumulation of fat and toxins beneath the surface of the skin can cause cellulite. Cellulite can be effectively treated if you are able to move those toxins out of your system.
With added coffee grains to exfoliate, to remove those dead skin cells and added cayenne pepper to heat up the body and get that circulation moving.
Once it gets moving, the cellulite can then be flushed through the body.
 This is a great soap to keep your legs soft and smooth. Made with coffee grains.
(please quote item and code with mailing address and allow approx, 3 weeks delivery)
---